Synopsis
Fascinating reference here is made to ".....seeing inflation in real time...." This is in keeping with the evolving concept of Transfinancial Economics. I hope to read this book soon.
http://www.p2pfoundation.net/Transfinancial_Economics
A New York Times bestseller. Longlisted for the Financial Times/Goldman Sachs Business Book of the Year Award. Since Aristotle, we have fought to understand the causes behind everything. But this ideology is fading. In the age of big data, we can crunch an incomprehensible amount of information, providing us with invaluable insights about the what rather than the why. We're just starting to reap the benefits: tracking vital signs to foresee deadly infections, predicting building fires, anticipating the best moment to buy a plane ticket, seeing inflation in real time and monitoring social media in order to identify trends. But there is a dark side to big data. Will it be machines, rather than people, that make the decisions? How do you regulate an algorithm? What will happen to privacy? Will individuals be punished for acts they have yet to commit? In this groundbreaking and fascinating book, two of the world's most-respected data experts reveal the reality of a big data world and outline clear and actionable steps that will equip the reader with the tools needed for this next phase of human evolution.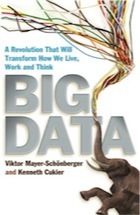 Imprint: John Murray Publishers Ltd; (14 March 2013)
Another summary of the work from the same source The Guardian, Pindar
Thanks to the internet, social networking, smartphones and credit cards, more data is being collected and stored about us than ever before – a level of surveillance the Stasi could only dream about, say Mayer-Schönberger and Cukier in this informative introduction to the "datafication" of our lives.
Big data analysis
gives big business a competitive edge (all those Amazon recommendations), but governments have invested heavily in it, too. The risks to privacy and freedom are obvious, but the authors accentuate the positive.
Big data
has useful applications in medicine, science and "culturomics". Mayer-Schönberger and Cukier make interesting observations about data-crunching techniques and they also report that analysts have found substantial amounts of "lexical dark matter" (words in books but not in dictionaries). In this brave new world of big data, Google and Amazon are frontrunners – although behind the NSA and GCHQ. The next challenge may be avoiding the "dictatorship of data".