Tau Investment Management, LLC
Blogger Ref
http://www.p2pfoundation.net/Transfinancial_Economics
Correcting market failures: re-valuing human and natural resources
Global supply chains are in crisis. Decades of outsourcing and offshoring have reduced costs for leading corporations, but have also brought calamitous risks and inefficiencies. In the "race to the bottom," a garment factory collapse kills hundreds of workers and throws an entire industry into turmoil; toxins in Chinese baby formula, or oil spills in American waters, grossly undermine public trust in brands and result in harsh regulation. Quality suffers, productivity stagnates, and workers and natural environments are degraded or even destroyed. These failures have a moral color, but their effect is also to sap profits and siphon value. Modern production systems are teeming with turnaround opportunities, but to date, investors have not seized upon them.
Tau changes that. Tau invests directly in unsustainable suppliers, bringing the capital and expertise required to turn them into the leading sustainable competitors operating at scale in their industries. The firm then slots these transformed suppliers into the supply chains of major global brands, creating improved transparency and performance across the supply chain.
Amongst our guiding principles:
Manage human and natural resources for long-term mutual benefit rather than short-term exploitation.
Integrate best-in-class operational and financial approaches, to turn our portfolio companies into leading resilient and adaptive entities.
Leverage compliance and transparency into sources of strategic advantage; Win by leading a "race to the top."
Source ref of the above
http://tau-investment.com/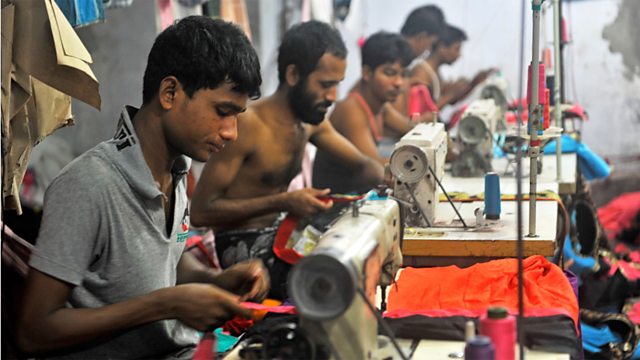 
Listen in pop-out player
Duration:

38 minutes
First broadcast:

Tuesday 09 September 2014
The collapse of the Rana Plaza clothing factory in Bangladesh was the deadliest disaster in the history of the garment industry. It brought about a series of recriminations, alliances, promises and calls for change.
With Bangladesh's clothing industry, predicted to quadruple in size over the next twenty years, a New York based private equity firm has come up with an idea to make Bangladesh's factories sustainable and efficient - as well as profitable. With backing from the Soros family, Tau Investment Management's plan is a bold one. They aim to provide a capitalist solutions to capitalism's failures.
The Guardian's Sarah Butler travels to Dhaka to meet Tau's owners and asks whether the Bangladesh factory owners need their help.
Producer: Barney Rowntree
A Tonic production for BBC Radio 4