Contactless card payments are seen as the future of small-item shopping, but not all stores are prepared for its arrival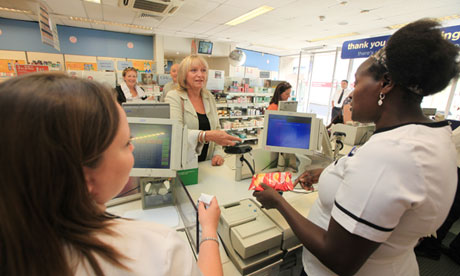 This was supposed to be the year we would see a revolution in the way we spend our money. The idea was that we stop using notes and coins for items such as coffees and newspapers, and simply wave our plastic cards over a reader at the till. But although millions of people have been issued with debit and credit cards displaying the contactless "wave" symbol, early evidence suggests shoppers aren't giving up on cash just yet – and many retailers themselves still need convincing.
In a mystery shopping exercise carried out this week, Guardian Money found that Boots, Marks & Spencer and Tesco have embraced the new form of payment. But other chains such as Starbucks, Costa Coffee and the Body Shop rejected our attempts to make a contactless payment – and some shop assistants barely knew what they were.
Contactless is for payments of £20 or less, and means you don't have to key in your pin. The advantages for consumers are that they are in and out of a shop quicker, with fewer queues and no fiddling around with change; retailers (are meant to) like it because they don't have to handle large amounts of coins, and they also hope you will spend more money.
But many shoppers worry about what will happen if their card is stolen and the thief runs up a big bill. That said, others like the idea of being able to pay without worrying about someone else behind them seeing them tap in their pin.


Meanwhile, by the end of 2012 London buses will accept contactless payments, followed by the tube and the rest of the capital's transport network sometime in 2013.


Pret A Manger, bag of nuts, 99p: YES
The assistant offered me a choice between a touchscreen contactless terminal or a chip-and-pin terminal. One quick touch of my card on the former and I was done. The assistant said about one in 10 customers paying with a card were opting for contactless. "It's quick and easy for me and works well," he said.

Tesco Metro, fruit salad, £2: YES
The screen on the card terminal at the checkout gave me the option to make a contactless payment – again, simple and fast.

Costcut Express, chocolate bar, 65p: NO
The assistant said: "You have to pay a 50p fee if you want to pay for it by card instead of cash."
"Don't you do contactless payments?" I asked. "No, we don't," came back the reply.

Starbucks, carrot cake, £2.10: NO
The assistant tried to show me how to put my card into the chip-and-pin terminal. When I asked if I could make a contactless payment, she said: "Sorry, we don't do that."

McDonald's, Big Mac, £2.69: YES
The assistant pointed out the card terminal. "Do you do contactless payment?" I asked.
"Yes, there," she said, pointing at the screen which showed the contactless symbol. I touched my card to it – done.

WH Smith, crisps, 99p: YES
The assistant told me to put my card in the terminal. "Don't you do contactless?" I asked.
"Oh yes," she said, before fiddling with something behind the counter to make the terminal accept a contactless payment.
"Quite a few people use this payment method, but it is not automatic on the machine," she said. The same applied when I wanted a receipt. She said they were only automatic if you paid by chip-and-pin, but she was able to prompt the machine to produce one at my request.

Accessorize, umbrella, £10: NO
When prompted to put my card into the chip-and-pin machine, I asked: "Don't you do contactless payments?"
"What?" said the assistant.
Once I explained what I meant, she said: "What, no pin or anything? Yes, I think I've seen that advertised. It sounds good but I'm afraid we don't do it. Sorry."

M&S Simply Food, salad, £2.75: YES
There was a big sign next to the terminal saying: "Why not pay contactless today?" So I did.

Costa Coffee, mini chocolate cookies, 99p: NO
When I asked if I could make a contactless payment, I was told: "No, sorry, we haven't got it yet – maybe next year. I know other retailers are doing it. "When I asked if many people requested it, I was told: "Not really. You are only the second person who has asked me for it, and I've been here for a year."

Boots, face wash, £2.99: YES
There were signs at the till telling shoppers they could make contactless payments for items up to £20, and the sales assistant started explaining it and automatically did it for me the minute I gave him my card. He said since getting the terminals installed the assistants have told everyone with a contactless card about it.
But when I tried a different, larger Boots to buy an item I had forgotten there were no signs and the assistant started to put my card into the chip-and-pin machine before I mentioned contactless. "Sorry," she said. "I didn't notice you had a contactless card," before processing it immediately.

The Body Shop, eyeshadow, £8: NO
The sales assistant said she had never heard of contactless payments and had never been asked about it before.

Paperchase, writing book, £4: NO
"We don't do contactless payments, I'm afraid."

Foyles, greetings card, £1.99: NO
When I asked if their card terminal would accept contactless payment, the assistants laughed and apologised. "It took us 20 years to get these," one said, pointing at the chip-and-pin terminal. "It'll take us another 20 years to get new ones!"
• This article was amended on 17 September 2012. It originally said only 15% of Visa customers who could have opted to use contactless payments did so at Olympic venues. It should have said that 15% of all card payments under £20 were made contactlessly.