The powerful documentary Inequality for All was an unexpected hit at the recent Sundance film festival, arguing that US capitalism has fatally abandoned the middle classes while making the super-rich richer. Can its star, economist Robert Reich, do for economics what Al Gore did for the environment?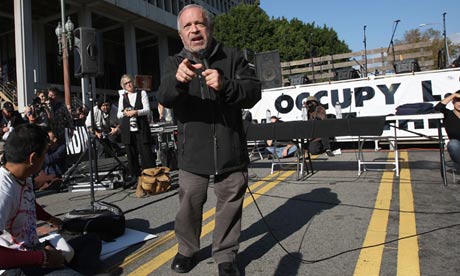 Skyfall
. Where would you even start? Because there are some films that practically beg to be made. And then there's
Inequality for All
; the kind of film that you can't quite believe that anybody, ever, considered a good idea, let alone had the passion and commitment to give it two years of their life.
These days he's a professor of public policy at the University of California at Berkeley and while he's not a figure we're familiar with in the UK, he's been part of American public life for years. At the start of the film, he introduces himself to a lecture hall full of students, telling them how he was secretary of labour under Bill Clinton. "And before that I was at Harvard. And before that I was a member of the Carter administration. You don't remember the Carter administration, do you?" The students remain silent. "And before that," says Reich with impeccable comic timing, "I was a special agent for Abraham Lincoln." He shakes his head. "Those were tough times."
Reich's books and ideas have been at the forefront of Democratic party thinking for a generation. He is an intellectual heavyweight, a veteran policymaker, a seasoned political hand, and yet he also has the delivery of a standup comedian. His ideas were the basis for Bill Clinton's 1992 election campaign slogan, "Putting People First" (they were both Rhodes scholars and he met Clinton on board the boat to England; he once dated Hillary too, though he only realised this when a
New York Times
journalist rang him up and reminded him). And they were still there at the heart of President Obama's inaugural address last month. America could not succeed, said Obama, "when a shrinking few do very well and a growing many barely make it". What Reich, basically, has been saying since the year dot.
Any synopsis of the film runs the risk of making it seem dry again, but essentially it describes how the middle classes have come to have a smaller and smaller portion of the economic pie. And how, since 70% of the economy is based on the middle classes buying stuff, if they don't have any money to buy this stuff, it cannot grow. Meanwhile, the government has allowed the super-rich, the "one per cent", to take more of the nation's wealth. Half of the US's total assets are now owned by just 400 people – 400! – and, Reich contests that this is not just a threat to the economy, but also to democracy.
A comment from the Blogger.
I think we should try to "bribe" the rich, and the super rich companies to move in a more ethical, and environmentally sustainable direction using something like Transfinancial Economics. Trying to "overthrow" them somehow via the present politcial process in the USA seems to me at present largely a "waste of time." With TFE a far more pragmatic approach is required in which new money could be created electronically, and without serious inflation to deal with the funding in full, or in part of poverty reuduction type projects. But this demands an understanding of TFE which requires real intelligence, and real vision...both of which are totally lacking in present day economics.....................
Also to further add the following point connected with the above.... TFE could reduce poverty dramatically without having to "rob" anyone irrespective of whether they are rich, or poor.
http://www.p2pfoundation.net/Transfinancial_Economics